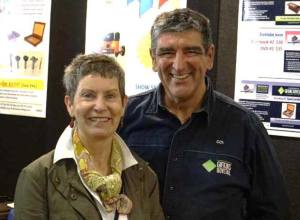 ABOUT COL HOSIE AND PAMELA CORRIGAN
Col Hosie and Pam Corrigan bought the Gifkins Dovetail patent and business from its inventor Roger Gifkins, in July 2011.
Col was an early convert to the Gifkins jig and realised that it was a game changer for box makers. The jig has opened the world of box making to thousands of woodworkers worldwide.
 Early days
Col started his career as an apprentice panel beater and spray painter in Canberra, eventually purchasing a panel shop. He developed an interest in wood turning and so attended several courses to extend his wood working skills. In no time, he was selling his work to galleries, and teaching wood turning and small joinery.
Col's natural ability as a teacher, and his easy-going nature, was spotted by an industrial arts teacher from St Francis Xavier College in Canberra. Within a month he had sold the panel shop and was standing in front of a class!
A Twenty-five year teaching career followed. During this time Col took commissions for furniture, held wood turning classes in his workshop and sold his work to local and regional galleries.
Pam's early career started in retail and administration, followed by an interesting period in health, welfare and education. The latter part of her career was in the service of Parliamentary Senate Committees, refining her public relations, organisational and administrative skills.
 The business
Col and Pam had a steep learning curve when they purchased Gifkins Dovetail. They faced the challenge of moving to Coffs Harbour—and at the same time—learning how to run a small, but complex, business.
Pam runs the company, Col Hosie Woodturner Pty Ltd, which involves promoting and managing the business through a range of tasks. These tasks include advertising, maintaining a website, publishing, product sales, accounting and compliance, and general organisation and administration. She enjoys the diverse nature of Gifkins Dovetail—always something new to do, interesting people to meet—and the challenge of running a small business.
Col manufactures jig and template components, router tables and box making accessories. He also conducts customised box making courses in their workshop in Coffs Harbour. When possible, he even finds time to develop new designs that extend the use of the jig itself. He has a growing reputation as an expert box maker and continues to sell his boxes through select galleries and via the Gifkins website (www.gifkins.com.au).
Col and Pam are a tight team who work well together, and who are passionate about their products. Together they promote the advantages of the jig by attending wood shows throughout Australia. They are the Gifkins jig experts who place importance on learning their customers' needs and providing after-sales service and advice.