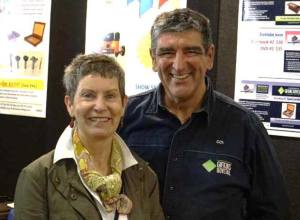 On 1 July 2011, Col and I purchased Gifkins Dovetail from the jig inventor Roger Gifkins.
With our combined life experiences and former careers, we bring a wealth of knowledge and experience to our venture.
Col has a background in teaching, and arts and crafts. He taught industrial arts for 25 years to high school and college students at a Catholic college in Canberra, ACT. He is also an accomplished wood turner. In his business he turned commissioned pieces, taught wood turning and furniture construction, and sold his products to galleries in the Canberra region.
Col's most notable recent achievement, and legacy, was the commission by his school, to design and construct the altar and lectern for its chapel. He is a natural teacher who has a lifetime of skills and technical knowledge; this ensured an easy transition to Gifkins Dovetail.
My early career was in retail and administration, followed by an interesting period in health, welfare and education. My later years were spent in the Parliamentary service in Senate Committees, refining my public relations and administration skills. I enjoy the diverse nature of Gifkins Dovetail—always something new to do, interesting people to meet and the challenge of running a small business.